Puppy Training Classes
- limited to a maximum of 6 dogs
Thursday 12th March 2020
Victory Hall, Hamstreet, Ashford, Kent, TN26 2NJ

EVENING sessions @ 6pm & 6.45pm

Monday 30th March 2020
The SWAN Centre, Turner Close, Ashford, Kent, TN24 0PQ

EVENING sessions @ 5.30pm, 6.15pm & 7pm
Courses fill quickly so please book early to avoid disappointment. Please feel welcome to come along, meet us and watch some classes before you book your course.
WHAT'S INVOLVED?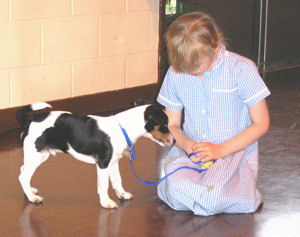 The course is eight weeks long and provides the foundations of knowledge and training along with a chance for you and your puppy to meet other dogs and owners. You will be shown how to handle, inspect and groom your puppy and how to teach your puppy to pay attention, come when called, sit, lie down, leave, wait and walk nicely on a lead. Other exercises include play, learning not to jump up, and teaching your puppy to settle. Discussions and handouts are given on subjects including;
| | | |
| --- | --- | --- |
| • How Dogs Learn | • Building a good Relationship | • Leadership Skills |
| • Socialisation | • Food Bowl Manners | • Toliet Training |
On completion of the Course you will receive a Club Certificate of Attendance and there is opportunity to continue training by taking our Intermediate and Advanced Courses.
We do not allow puppies to "playfight" in class as in our experience this can cause more problems than it solves. Timid puppies can be frightened, bold ones can become too bossy. Most of the dogs that you will meet out on walks are likely to be older than your puppy and may not appreciate an adolescent pup "bouncing" all over them so it's important that your puppy learns how to behave around dogs of all ages to avoid him getting into trouble later on. As this course provides the foundations of training we do allow owners of older dogs who want to begin training to enter this class providing the dog is of sound temperament.
COURSE COST: The cost of the eight week Basic Training course is £65. Each lesson is approximately 45 minutes long.
Puppy Headstart Programme
An "In the Home" Education and Training Programme for owners of puppies aged between 7 and 14 weeks.
You vaccinate your puppy to help protect him from dangerous diseases. It makes sense to also vaccinate him against the ups and downs of life by beginning his education as soon as possible. So go on .... Give Your Puppy a Headstart!!
The programme consists of a set of four lessons (usually one a week) that take place in your own home at a time convenient to you, each lesson lasting just over 1 hour. It offers you the chance to get your puppy's education underway as soon as he arrives home rather than waiting for vaccinations to be completed before attending group training classes.
The programme aims to give you the information and help you need to begin your puppy's social education, helping them to grow into a polite, sociable member of your family who can cope with the demands of being the family pet. It covers essential Puppy Topics such as:
| | | |
| --- | --- | --- |
| • Stages from Puppy to Adulthood | • How Dogs Learn | • Toilet Training |
| • Crate Training | • Relationship and Communication Skills | • House Rules |
| • Grooming | • Daily Routines | • Socialisation |
| • Learning to be Home Alone | • Teething, Chewing and Biting | • Jumping Up |
| • Handling, Inspection and Grooming | • Learning to Share and Play | • Food Bowl Manners |

HOW MUCH TIME DURING EACH LESSON WILL BE SPENT TRAINING MY PUPPY?
Very young puppies often tire quite quickly and cannot concentrate for long periods of time so exercises are kept short (5/10 mins) and divided up with periods where your puppy can rest, or play, while we discuss other important topics relevant to his social development.Exercises that will involve training time with your puppy will include:
| | | |
| --- | --- | --- |
| • Communication and Body Language | • Recognising and Responding to his Name | • Play |
| • Collar Touches | • Accepting the Lead | • Handling, Inspection and Grooming |
| • Polite Greetings | • Food Bowl Manners |   |
Make an enquiry
Tel: 07753 384300
Email: sandra@adtclub.co.uk
Or send a message;
* Indicates a required field which must be completed before the form can be sent.