Basic Training Classes
- limited to a maximum of 6 dogs
You can teach an old dog new tricks!!
Thursday 12th March 2020
Victory Hall, Hamstreet, Ashford, Kent, TN26 2NJ

EVENING sessions @ 6pm & 6.45pm

Monday 30th March 2020
The SWAN Centre, Turner Close, Ashford, Kent, TN24 0PQ

EVENING sessions @ 5.30pm, 6.15pm & 7pm
Courses fill quickly so please book early to avoid disappointment. Please feel welcome to come along, meet us and watch some classes before you book your course.
WHO IS IT FOR?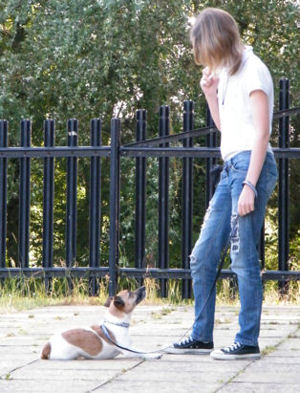 For owners who have re-homed an older dog, or just want a refresher course to brush away the cobwebs. Our Basic Courses are popular and limited to six Dogs. Dogs can begin as soon as their vaccinations are up to date.
Please Note: This course runs along side the puppy course therefore no dogs are allowed to join the class if they are aggressive towards other dogs also, if they are agressive, putting them into a hall occupied with other dogs is unlikely to make them feel any better and may make them much worse.
COURSE COST: The cost of the eight week Basic Training course is £70. Each lesson is approximately 45 minutes long.
For dogs and/or owners that find a group situation too stressful we can offer one-to-one training which we can tailor to your specific needs - see the section below.
One-to-One Training at Home
For dogs and/or owners that do not wish to take part in group training classes we can offer One-to-One training sessions.
These sessions focus primarily on the training issues that the owner and dog need help with which may include minor behavioural problems but, because we believe the foundation of any training begins with the relationship between the owner and dog, we may also make suggestions concerning other matters or training issues if we think they may be helpful.
One-to-One Training sessions will normally take place in the owner's home or local park etc. and will usually last between one to three hours.
The price for One-to-One Training starts from £50 per session - for more information please contact Sandra by email, telephone or using our contact form here.
Continuation Courses
Continuation courses are available for dogs and owners who wish to progress to more advanced levels.
Make an enquiry
Tel: 07753 384300
Email: sandra@adtclub.co.uk
Or send a message;
* Indicates a required field which must be completed before the form can be sent.